Is This Program the Right Fit?
At Ingleside at King Farm, we recognize that an Alzheimer's or dementia diagnosis is one of the last things that you want for your loved one. But our compassionate memory care team is here to help you and your family through this challenging time. We're here to make sure that both you and your loved one have the right support. We spark memories of each resident's story and help create new memories is through our Music Therapy program. These individual and group sessions focus on reminiscence, engagement with others, singing, instrument play, movement with music, listening, and discussion. At Ingleside at King Farm, we've created an environment where individuals living with cognitive change can feel empowered and be fully engaged.
SECOND NEIGHBORHOOD NOW OPEN
Ingleside at King Farm's second Memory Support Assisted Living neighborhood is now open!
To reserve a choice residence, please contact us for more information.
UPCOMING VIRTUAL EVENT
Beyond Memory Loss: Handling Personality Changes and Impulse Control Issues In Dementia
June 7 @ 2:00 p.m.
Nearly everyone understands that people with Alzheimer's Disease and other types of dementia experience memory loss. What most people don't understand is why someone with dementia might exhibit odd behaviors or act so differently from the way they did before. This program will help you better navigate the symptoms of dementia that are difficult to understand and manage.
Memory Support with Meaning
Ingleside's Memory Support Assisted Living is designed to enhance
every individual's unique journey through a meaningful life.
Intimate residential neighborhood
All-inclusive, bundled rate
All utilities included
All-day, flexible dining, featuring chef-inspired meals, a fully stocked kitchen, and hydration stations
Person-centered service plans supported by licensed and caring staff
Family support, education and engagement
Social integration with greater Ingleside community
Individualized music, art, pet, movement, and recreational programs and therapies
Access to the Center for Healthy Living, including on-site physician offices, therapy suites, wellness center, salon, and spa
A full continuum of support on-site with long-term care, short-term rehabilitation, and assisted living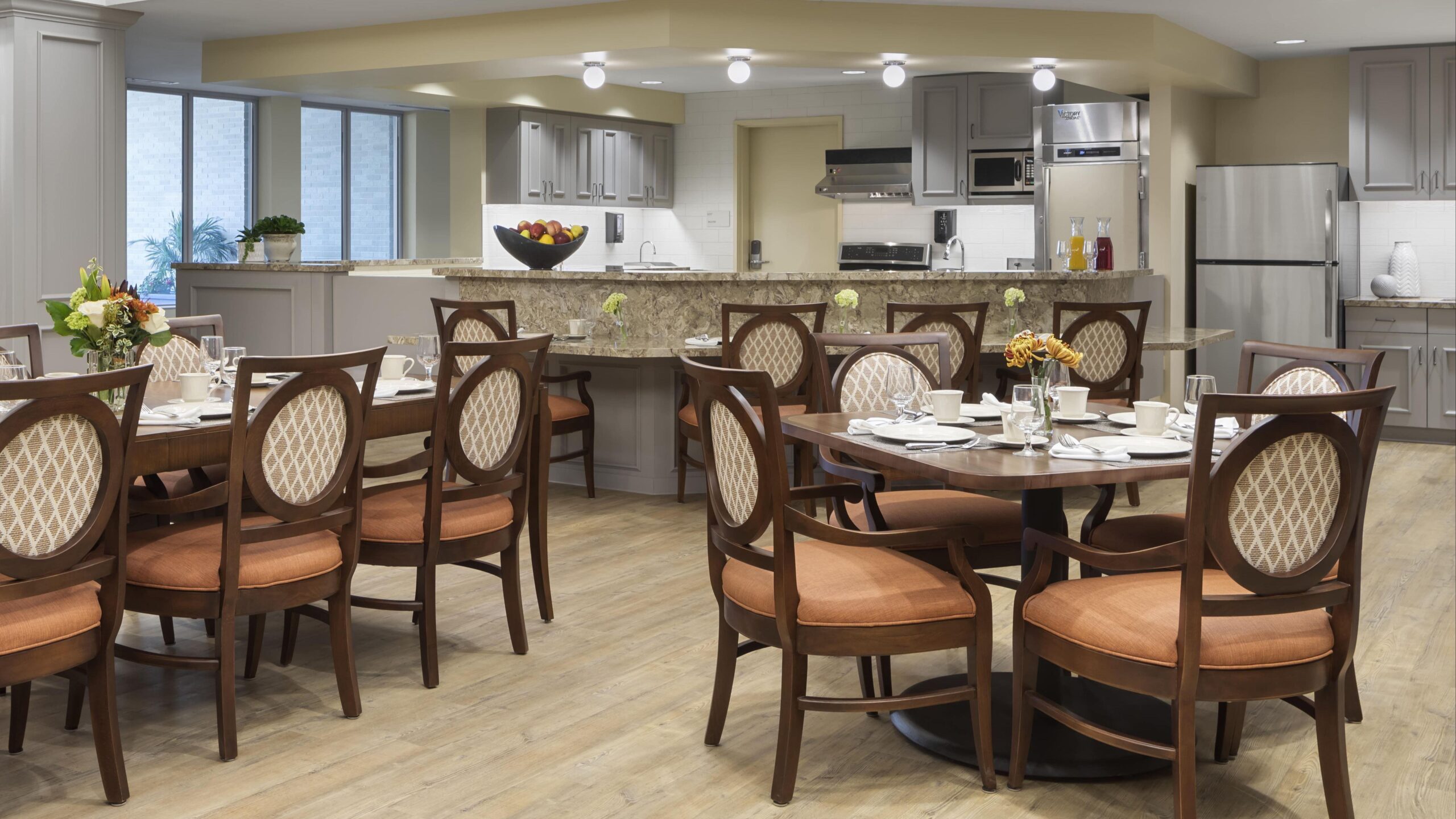 We invite you to learn more about the advantages of memory care assisted living in our not-for-profit, CARF-accredited, Life Plan Community.
For a short time, Ingleside at King Farm is offering a great way for you and your loved one to try our innovative memory care program.
To find out more about our limited-time respite program, please call 240-205-7085.
Memory Care Floor Plans
Ingleside at King Farm offers spacious, comfortable one-bedroom memory care assisted living apartment suites. Click on the models below to review these delightful, well-designed floor plans.
All dimensions approximate. Amenities vary by apartment.
Financial Options
Ingleside at King Farm is open to residents to move directly into our memory support assisted living neighborhood. A one-time community fee of $17,410 per person is required, and all-inclusive monthly fees start at $11,392. Monthly fees vary depending on apartment size and number of residents.
The Westminster Ingleside Foundation offers peace of mind for our residents. If a resident outlives their resources through no fault of their own, the Westminster Ingleside Foundation will be here to help. In fact, since our doors opened, not one single resident has ever been asked to leave due to lack of financial resources.
Details vary, so give us a call at 240-205-7085 or contact us online to discuss your individual situation. You may be surprised to find that choosing a home at the most desirable retirement community in Montgomery County, Maryland, lies well within your reach.