About Ingleside at King Farm
A walkable, intergenerational retirement community in Rockville, MD
Ingleside at King Farm is a progressive, not-for-profit Life Plan Community that's integrated into a larger, walkable neighborhood. This welcoming retirement community offers an engaged, vibrant lifestyle, enhanced by an incomparable combination of excellent service, fine dining, extraordinary amenities and effortless camaraderie.
Lifestyle Brochure
Learn more about life at Ingleside at King Farm
Part serene retreat, part creative salon, part gateway to culture and learning, Ingleside at King Farm is a special place where you'll find everything you need to create a remarkable retirement life.
Explore Ingleside at King Farm
Ingleside Engaged Living
Amenities
Enjoy luxurious services and amenities that support a fulfilling retirement life
Multiple venues for indoor and outdoor dining
Fitness Center and Studio fully equipped with state-of-the-art exercise equipment
Heated indoor swimming pool
Underground parking garage
Extra storage for residents
Cultural Arts Center, offering performances, guest speakers and social events
Salon and day spa
Art studio
Well-stocked library
Classrooms
Courtyards with water features and fire pit with outdoor seating
Game room
Card room
Meditation space
Coffee shop
Wellness Center with Physician's office
Rehabilitation Center
24-hour concierge
Access to higher levels of care
On-Site, Quality Health Services Available
Find the right level of care to meet your needs
Discover the advantages of an inclusive and diverse Life Plan Community with progressive levels of support located conveniently on-site. Whether you or your loved one needs assisted living, memory care, skilled nursing care or short-term rehabilitation, you'll have peace of mind knowing that the right care, at the right time, is right here at Ingleside at King Farm.
Ingleside at King Farm was highly ranked on the U.S. News & World Report 2022-2023 Best Nursing homes list for Best Short-Term Rehabilitation.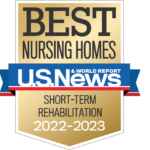 Getting Started
These insightful articles will provide much-needed tools and resources that will help you chart a course for your next chapter of living.
Winter brings with it a unique set of challenges, no matter where a person calls home. As the temperature drops and the days grow shorter, it
…
Learning a new language can be an enjoyable and rewarding experience for all ages. Not only will you gain an understanding of the world and how
…
Living alone comes with many pros and cons. Being completely independent allows you to do whatever you want, whenever you want. However, being the only one
…