If you've been caring for someone with Alzheimer's or dementia, you may reach a point when more help is needed than you can continue to supply. Even those who have brought in additional home services may find it necessary to move their loved one to a community. As this is a progressive disease, it should not be seen as a reflection of the level of care you were able to provide.
You may have heard the terms assisted living, memory support assisted living and stand-alone memory care. If you're unclear which might be best, we've outlined a summary of each below to help you become familiar with these choices. It's important that you have an understanding of each when making your decision about which type of residential community will be the best match for your loved one.
Assisted Living
Communities that offer help with the activities of daily living can be the perfect setting for those who continue with a mostly independent life. The assistance could include tasks such as bathing, mobility or dining. You'll find these residential communities typically offer semi-private or private apartments and may include the following services:
Assistance with personal care
Medication management
Dining program
Scheduled transportation
Exercise and wellness programs
Organized recreational programs
Social activities
Laundry
Housekeeping
Maintenance
24/7 Security
Assisted living communities are generally regulated by the state where they reside so you may want to familiarize yourself with the local requirements. Each organization can differ in their style, amenities and services so don't assume if you've seen one that you know them all. You'll also want to understand the total cost of living there, what services are included and what type of training the staff has received.
If your loved one is in the beginning stages of Alzheimer's or dementia, you'll want to ask any communities you're considering whether they believe they could provide the services needed. However, with a progressive disease, it is also likely that eventually a move would be required. For those who currently need more help and support, an assisted living community that supports memory care may be more appropriate.
Memory Support Assisted Living
Memory care residences are communities who typically offer what is included above, but also design their services to focus on those living with dementia. While allowing interaction with other assisted living residents, there may be a separate memory care wing or a section. The layouts allow for residents to feel safe and comfortable. Those who tend to wander are protected as security and exits prevent anyone from accidentally leaving. And there are usually outdoor areas so the residents can go outside but are still secured from leaving the property.
The interior spaces are inviting with cozy and calming colors and features. It's also important to have an abundance of natural light, programs that engage the individual and beneficial therapy such as music, arts and pet therapy. In a setting that's supervised 24/7, routines are also important for those who struggle with cognitive illnesses so you'll want to ask how they address this. Nutrition can be a challenge and the right dining programs and options make a difference.
Assisted living staff are trained to help residents with daily activities such as bathing, dressing or preparing food. In memory care, staff also have the additional skills to assist with the specific needs of Alzheimer's or dementia, including understanding the different behaviors that result from the illness or situations they may be experiencing, as well as how best to respond and communicate.
Stand-Alone Memory Care
Stand-alone memory care services are not offered as part of an assisted living community but are residences designed exclusively for those suffering from cognitive impairment. From the physical layout, dining services, amenities and therapies, all of the residents share their living environments with others who have the same or similar symptoms of a dementia disease.
There are those who believe a stand-alone community is the best environment while others may think segregation isn't the most beneficial solution. Depending on your loved one's individual needs and the type of care you believe would be best, you may find it helpful to research both types of communities.
What You'll Find at Ingleside Memory Support Assisted Living
The cornerstone of our communities is to promote engaged living. We're determined to provide the very best care based on our core values of inclusion, diversity and engagement.
Our communities are specifically designed to create an optimal environment for those living with dementia or Alzheimer's. Along with our person-directed approach to wellness, we help those living with cognitive challenges to be empowered and fully engaged. The services and amenities we offer include:
Intimate and secure residential neighborhoods
Spacious apartments with an abundance of sun and natural light
Individual therapeutic, therapy and wellness programs
All-day dining with chef-inspired meals and stocked kitchens
Social integration with the greater Ingleside community
Caregiving teams educated in best dementia care practices
On-site physician offices
Family support and education
We also provide the ability to transition to other levels of care in our continuum. As a Life Plan Community or CCRC, we provide independent, assisted living, memory support and nursing care. This provides peace of mind to know that we have all services under one roof.
Maintaining a High Quality of Life
Our philosophy of service at Ingleside Memory Support Assisted Living is based on these founding principles, which is the basis of the care we offer to every resident and each family:
Autonomy: Honoring each person's natural human right to self-determination, choice and control of daily life.
Authentic Living: Continuing the routine that has been central to one's life.
Wellness: Having access to and participating in purposeful and meaningful activity.
Purposeful Living: Recognizing that people experience purpose in a variety of ways.
Connection: Feeling seen, heard and valued simply for the sake of being who they are.
Being Seen: Enhancing each person's engagement in knowing themselves as a valued and important member of the community.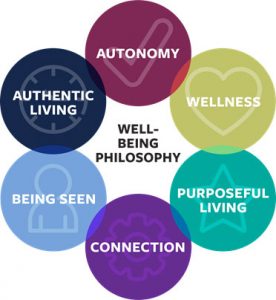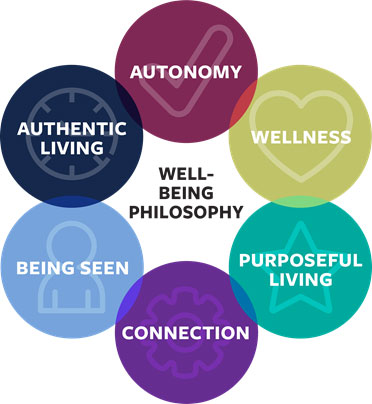 Our team is here to help and support both your family and your loved one. We understand the challenges of Alzheimer's and dementia and are a trusted resource if you need help or suggestions.